The MAD5 FITNESS proprietary fitness formula
Our proprietary fitness formula- Heart Rate Based Interval Training. Our fun and exciting workouts consist of intense cardio fitness, resistance, toning, and functional core fitness. With our science-backed fast results. You will never get bored or plateau, with us it's personal we guarantee it!
We offer
Unlimited Workouts- Group or individual training sessions

Unlimited Classes- Attend unlimited number of classes.
Personal Trainer- A personal trainer to motivate you. (Additional Cost)
Monthly Challenges-Enroll in challenges at no extra cost to your membership
Heart Rate Training- Realtime heart rate monitoring.
Bootcamps- Full access to monthly bootcamps
Nutrition Plans- Personalized meal plans just for you.
Weekly Weigh-in- Track your results every step of the way.
Personalized Plans- Workouts tailored to your fitness level.
We guide you every step of the way with "the ultimate body transformation"
Athletic performance/Sports Training- Athletic training, agility and strength training, sport specific speed, agility and quickness training.
MAD5 GROUP HIIT
A strength and cardio fitness experience that delivers the ultimate body transformation. We incorporate 3 major components- intense cardio fitness, resistance toning, and functional core fitness with total-body compound movements with a high work rate. You will burn a huge number of calories and have an "after-burn" effect. You get all the benefits of group personal training that gets you the best results from your sweat. Never get bored, every workout is different.
JUST TRAIN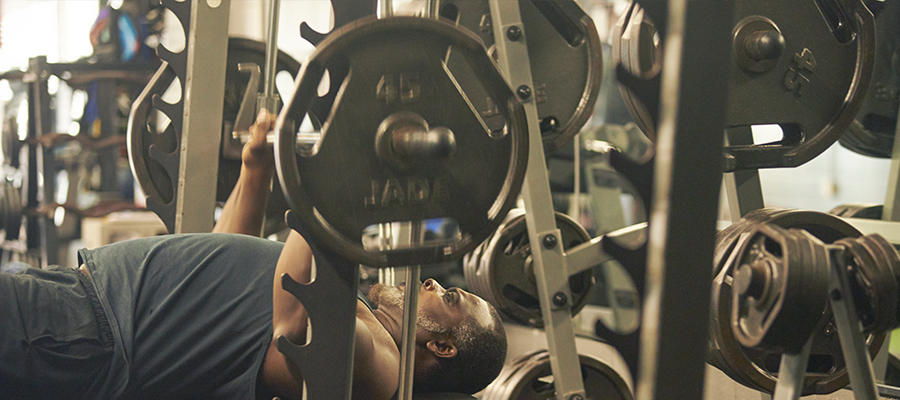 A small, old-school, private gym feel, but for a reasonable price. No instruction needed. Great for those that just train! Whether you consider yourself an introvert, power-lifter, bodybuilder, fitness/figure competitor and/or strongman: whatever your needs our facility can provide that for you.
M5 PERSONAL TRAINING – M5 PT
If you are a novice who wants to get in shape, hit a fitness plateau, a professional athlete who wants a competitive edge, and/or you're just tired and bored of the same old fitness routine. Having a M5PT is the first, most important step you can take toward achieving your health and fitness goals. Whether it's for a special event, and/or wanting to improve your overall health, working with a M5 PT is the fastest, safest and most holistic way to go.
M5 SPECIAL CLASSES/ EVENTS
Classes and regular events are included with The Maddison Fitness Facility Memberships. We offer a variety of fun and exciting classes, and host different health and fitness events. Prices vary for classes and events.
M5 NUTRITION
Want to get fit and stay fit? We show you how. You will learn how to eat well, live well, and be well. We offer guided nutrition programs and plans. We've got you covered in all areas.
M5 BODY RIDE
Are you ready to ride out? We've got a class for you, regardless of your fitness level, age, or body type. Loose yourself in the music, and own your beat with our low impact, high-intensity indoor cycling class. The class offers a fun, never boring beat based ride. Burn some serious calories all while enjoying some of the best music. Strap in, pedal hard, have fun, and sweat!
M5 MASSAGE THERAPY
By appointment only. Muscle Therapy by Jana Rego-Heins, LMT, BCTMB. Jana offers Integrated Swedish Massage, Therapeutic Stretching, PUSH Muscle Therapy – the best technique to relieve chronic muscle tension and pain.
After graduating from Illinois Central College massage program, she began her practice with Swedish and deep tissue. She worked as a full-time therapist for six years at R&;R Chiropractic as well as serving clients in her private practice.  Jana served as adjunct faculty for the Illinois Central College Therapeutic Massage Program for six years, teaching muscle anatomy, deep tissue, Swedish massage, sports massage, and pre-natal massage. She spent two and a half additional years as the program director for the program.  Jana is a Certified PUSH Therapist. She has completed advanced training with Michael Takatsuno, and has served as an assistant instructor at several of his training seminars.  Likewise, Jana is trained in Deep Tissue Massage with Robert Haase and has served as an assistant instructor in several of his continuing education seminars. She is trained in intermediate level of Primal Reflex Release Technique. PUSH Muscle Therapy is the best technique I know to relieve muscle tension and pain. PUSH uses manual pressure and muscle manipulation to restore blood flow and oxygen to tight rigid tissue. Optimal blood flow restores healthy muscles! PUSH is performed over clothing. Integrated Swedish massage involves the use of hands, forearms or elbows to manipulate muscle tissue to improve mental and physical health. Passive stretching and Primal Reflex Release Technique may also part of the message. The benefits of integrated Swedish massage include increased blood circulation, increased lymph flow, mental and physical relaxation, decreased stress and muscle tension, and improved range of motion. Therapeutic Stretching is performed with client in comfortable clothing. Various types of stretches are performed, customized to the client. Benefits include increased range of motion and freedom of movement, as well as decrease in tension and anxiety.  Whole Body Vibration Therapy is a passive exercise using vertical directional force against gravity. This creates what some refer to as "hyper gravity" Our body responds subconsciously by rapidly contracting and relaxing every 2-3 seconds resulting in a near 100% activation of muscle fibers, a response that otherwise can only be achieved by extended weight training.  SC Massage License #9724
Achieve Your Fitness Goals
Flexible membership packages to suit all levels of training to help achieve your fitness goals